Last night, Reilly waited patiently as "Momma"—whom thought that she and Reilly were going to go "night nights" earlier than they did—and "Momma" completely understood as Reilly gave her a look of skepticism when she told her that they were "going upstairs now", and it took "Momma" a while to get Reilly to come to go upstairs—and Reilly waited patiently as "Momma" read to get to sleep, too.
Understandably, Reilly was a little sleepy this morning—although she was excited to go downstairs to "go potty" and have her morning "num nums". She also had to be convinced by "Momma" to find "Froggie" in the "blankie" as well.
Incidentally, one's basic vocabulary has to frequently be utilized with her or his puppies—including adult puppies—e.g., with the more-complex "blanket" becoming "blankie" and more-complex "breakfast" becoming "morning 'num nums'", despite that some puppy owners do often use more-complex vocabulary with their puppies—e.g,, when "Grandaunt Frannie" told "Momma"'s fur cousin and Reilly's match Kelso, "Kelso, finish your food."
Speaking of complex vocabulary and matches—and with " Momma" going back to the original point, Reilly fully understood when "Momma" encouraged her in standing up to her match Camille—"Good girl—good standing up to Cam!"—when Reilly growled at Camille for not letting her try to find "Froggie", too. "Momma", of course, had to originally coax Reilly by saying, "You're okay. You don't have to be afraid of Cam."
If only "Momma" had someone like that in her corner—especially as, e.g., the OCD/Anxiety and the Depression take a toll on her and drain her to the point where she can't muster the energy and make the time to frequently brush Reilly's "teethers"—although to be fair, Reilly did (and God must have moved Reilly to) give "Momma" fully-understanding-that-"Momma"-is-going-through-a-hard-time kisses while "Momma" prayed over her for God to protect her "teethers" and prayed with her otherwise.
Nonetheless, not having a helpmate to "Momma" and "Daddy" to Reilly is hard on "Momma"—and if Reilly's eventual "Daddy" is who "Momma" thinks that he is and who might even hope that he is someday (although "Momma" doesn't quite know what he wants and where he is in life), "Momma" wants to know for both her sake and Reilly's sake—especially as, e.g, being lonely during the holidays (even with Reilly around—since there are voids that puppies can't fill) will only drain "Momma" more and compound "Momma"'s Cerebral Palsy that makes chasing Reilly to get recycled oatmeal packets that she somehow got out of her mouth (and luckily, it was an entirely- or almost-entirely-empty packet of just organic Oats and Flax Oatmeal with a little bit of organic sugar—and Reilly had her leash on when "Momma" went to retrieve the packet from her mouth—and Reilly did drop it the first time for a treat).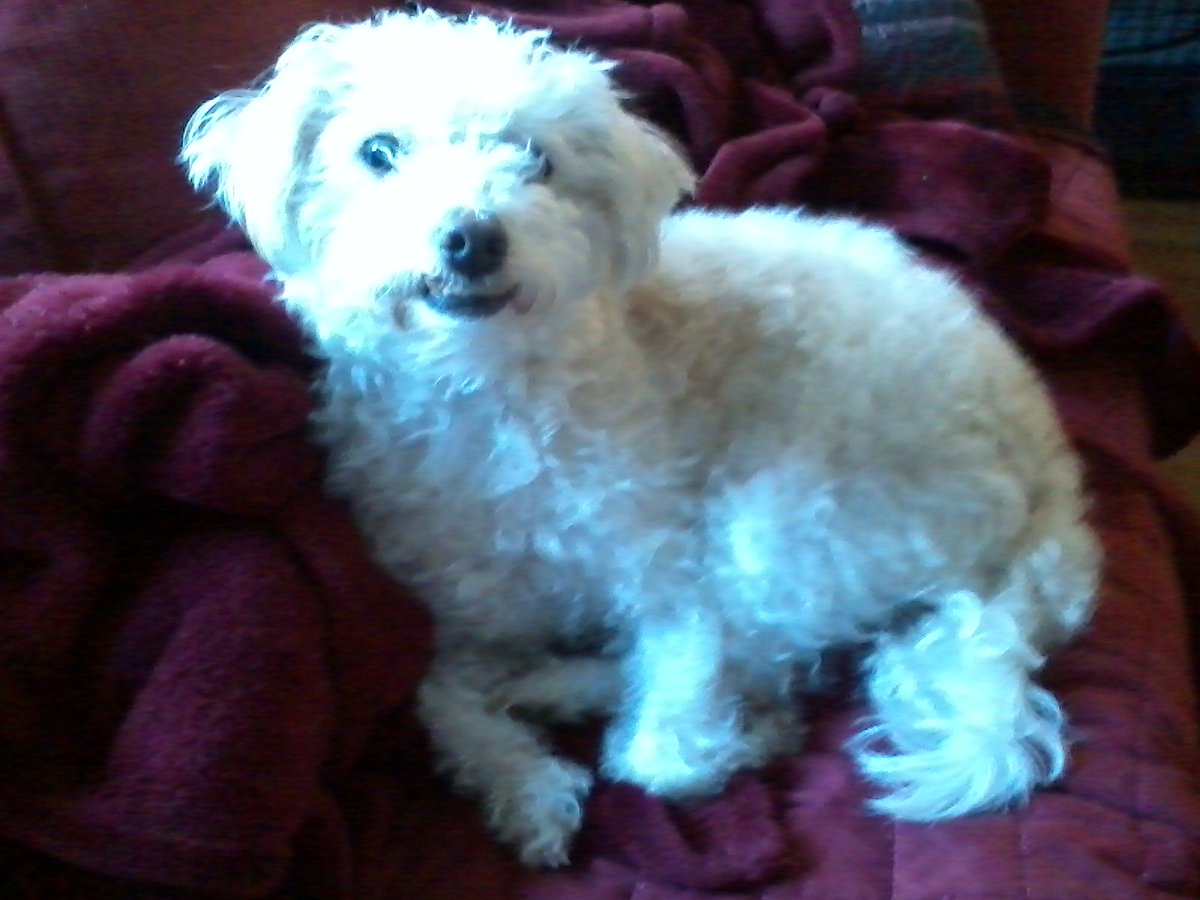 Added at 2:04 PM EST: Reilly let "Momma" take a picture in order to get a belly rub (12:57 PM EST)